Welcome MRESC Members!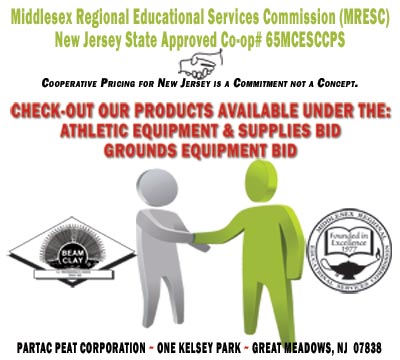 Not sure if your school, college or town is a member of the MRESC ... here is a Current Member List.

If you are not a member and would like information on how to join/use the purchasing co-op, please click here.

Partac Peat Corporation has been awarded a bid by the MRESC Co-Op: Athletic Equipment & Supplies Bid MRESC#14/15-61. MRESC Members receive a 5% discount off the prices listed in the approved catalogs. Shipping and handling is not included in the price list. Ordering agency must check freight charges before issuing purchase order. Please call 800-247-2326 or email list of items to denise@partac.com for a detailed quote. When issuing purchase orders, please be sure to include the appropriate bid # on your PO to expedite the ordering process.


MRESC Members please note that our Beam Clay / Partac Peat Corporation MRESC Master Catalog 2015 has been approved under MRESC Bid#14/15-61 for bid term 5/9/15-5/8/2016. We have broken the master catalog down into smaller files for quicker downloading. Please see the links below.


Athletic Equipment & Supplies Bid MRESC#14/15-61 - Approved 2015 Catalog Files
Grounds Equipment Bid MRESC#12-13-24 - Approved Catalog Files